Department of Biological Sciences
Graduate and Postgraduate Coursework Programs
Our department offers a range of coursework programs for people who already have an undergraduate degree. Our programs are designed to give you the additional and more advanced knowledge and skills you need to fulfil your career aspirations. While these programs include research activities, they are designed for professional development rather than progression towards a PhD.
Graduate Certificate in Science (Palaeobiology)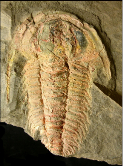 The Graduate Certificate in Science (Palaeobiology) is a flexible program that provides an avenue for those students who come from non geoscience or biological science disciplines or even a non-science background, but who have a passion for palaeobiology and the fossil record the opportunity to gain foundation knowledge in palaeobiology to a level that could articulate with a Bachelor of Science or Museum Studies degree. The program is open to day, distance and international students and can be completed in one year (full-time) or two years (part-time). This is the most comprehensive and flexible palaeobiology program available in Australia.
Master of Science in Biodiversity Conservation

The Master of Science in Biodiversity Conservation is a new program that focuses on the theory, practice and ethics of biodiversity conservation, from the level of wildlife populations to entire ecosystems. An emphasis is placed on the unique biodiversity of Australia and its connections with the southern continents and the rest of the globe. This course provides students with the skills and outlook necessary for employment in biological conservation at the management level and/or research. This flexible program is available to both domestic and international students, can be completed in one year (full-time) or two years (part-time), and can be commenced either at the start or middle of the year.
Master of Climate Change
This is a new inter-disciplinary program that will be offered for the first time in 2013. More details will be available soon.
Master of Marine Science and Management

The Marine Science Program at Macquarie University, in partnership with Sydney Institute of Marine Science (SIMS), the University of Technology Sydney, the University of New South Wales and the University of Sydney has developed a new and innovative Masters program in Marine Science and Management. This interdisciplinary and cross-institutional program is unique in Australia. It has been designed to give students the opportunity to gain in-depth knowledge in a range of disciplines in marine science and management.
Exercitationem
Ut enim ad minima veniam, quis nostrum exercitationem ullam corporis suscipit laboriosam, nisi ut aliquid ex ea commodi consequatur.
Quis autem vel eum iure reprehenderit qui in ea voluptate velit esse quam nihil molestiae consequatur, vel illum qui dolorem eum fugiat quo voluptas nulla pariatu