Benthic Ecology Group
News
Current News
Dominic McAfee awarded the Barbara Rice Memorial Award at the 2015 Biological Sciences Postgraduate Student Conference
Barbara Rice was an Honorary Associate of Biological Sciences at Macquarie University. She was the backbone of the ecology group from 1975 to 2009. She contributed skill in plant identification, extensive experience with fieldwork and research, enthusiasm and organization. She was an elder sister and mentor to dozens of research students and postdocs.
The Barbara Rice Memorial Award is for the best field-based research talk at the Biological Sciences Annual Postgraduate Student Confence. Congratulations to Dom for taking out the 2015 award with his talk entitled: 'Can oysters provide a refuge for coastal bioidversity in a changing world?'
---
Melanie Bishop awarded a 2015 Vice Chancellor's Citation for Outstanding Contributions to Student Learning
The Vice-Chancellor's Awards celebrate and reward excellence in teaching and learning. Melanie is a 2015 recipient 'For leadership in implementing active-learning approaches in the Sciences, that enhance student engagement, by developing a lecture-less flipped classroom unit.'
Read more: http://teche.ltc.mq.edu.au/melanie-bishop-on-teaching/
http://teche.ltc.mq.edu.au/project_snapshots/engaging-marine-science-students-through-a-flipped-model/
---
Dominic McAfee a finalist in the 2015 Macquarie University 3 minute thesis competition
The 3-min thesis competition requires students to distill their research down to a 3 minute presentation, that is suitable for a non-specialist audience. Congratulations to Dom for being runner-up in the Faculty of Science and Engineering and qualifying for the University finals.
---
Congratulations to Joe Kenowrthy for submitting his PhD thesis
Congratulations to Joe for submission of his PhD thesis entitled 'Comparative estuarine dynamics: trophic linkages and ecosystem function'. Joe was a joint PhD student between Macquarie University and St Andrews University, Scotland. We look forward to reading the resulting publications!
---
Past News
2013
The Benthic Ecology Lab STRIKEd out for Xmas 2013!!!!
On Friday the 13th December 2013 the Benthic Ecology Lab had their Christmas Party at the brand new STRIKE at the Macquarie Centre. Unfortunately not all lab members could attend, but those who did had a great time shooting at each other followed by some Tenpin bowling.
The Red Reindeers Riegned supreme in the LazerTag arena with 16,453 points to the Green's 12,150. Berserker Dan had the most kills, followed closely by the Widowmaker Dom, however neither had the accuracy of The Plague Magali racking up 44%. Teams were then disolved for an all in fight to the death everyone for themself game of Tenpin bowls.
Some impressive skills were displayed throughout the day, particularly Cliff's very own version of the "Flipper", many STRIKES were bowled including a few, but only a few gutter bowls. After lunching on some yummy pizzas Jen started off the game with a Spare and remained pretty consistent and it appeared no one could compete with her mighty bowling prowess. That was until the last round and the last bowl of the day by Dan who bowled a Strike, followed by seven pins down, making him equal with Jen, with one bowl left and three pins to go it was a nail biting finish, unfortunately for Dan he missed resulting in a 108 draw with Jen. Yeah Dan and Jen!!!!!!!!
Santa's Lil' Reindeers

F: Lara, Magali, Mr Strike, Mel, Dan, Jen
B:Dom, Cliff

Just Chilliing..........
Cliff, Belinda, Dom and Dan

Hehehehehe I have a wicked plan!!!

Whoops!! Busted Dom......

Get ready for the Flipper!!!!!

Yeah Mel Strike! Strike! Strike!

Go! Lava Go!

Happy little Reindeers

Dan and Jen.. WINNERS!!!!!

There were highs..........

........... and some lows

I Love Bowling Ball!

Love Bowling Ball!

Do I eat it?????
Congratulations to Melanie Bishop for being highly commended by the university for her work on Building a Disease Resilient Oyster Industry.
Australian oysters support a valuable food industry ($73.3 M p/a) and promote healthy estuaries by providing vital ecosystem services. QX disease is economically and environmentally important because it causes mass mortality of Sydney rock oysters. To restore oyster production, managers are trialling aquaculture of triploid Pacific oysters and QX-resistant Sydney rock oysters in QX-affected estuaries. Our research has ascertained that these strategies have negligible impacts on (i) wild oyster populations and (ii) ecosystem service provision. Our research has facilitated expansion of the Pacific oyster industry and Sydney rock oyster selective breeding programs, helping to build a sustainable oyster industry.
Click Melanie's picture below to hear all about it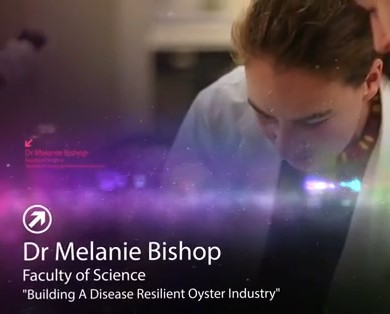 MQU is one of the country's leading research universities, its international reputation is built upon the excellence of the research undertaken by its highly committed and talented researchers across a broad spectrum of research activity. Each year the university award excellence in research in numerous fields.

Click here to find out more about MQ Research Awards
---
Lara Ainley recently attended the 2013 Macquarie University School of Biological Sciences Higher Degree Research (HDR) conference held here on campus. Lara presented her work titled: " Spatial variation in seagrass and mangrove decomposition." From the many student presentations on field based research at the conference Lara was awarded the runner up prize.
Every year the school of Biological Sciences showcases all higher degree research work where students present their results and receive detailed feedback from staff and peers.
Three cheers for Lara Hip Hip..... Hooray!!!!!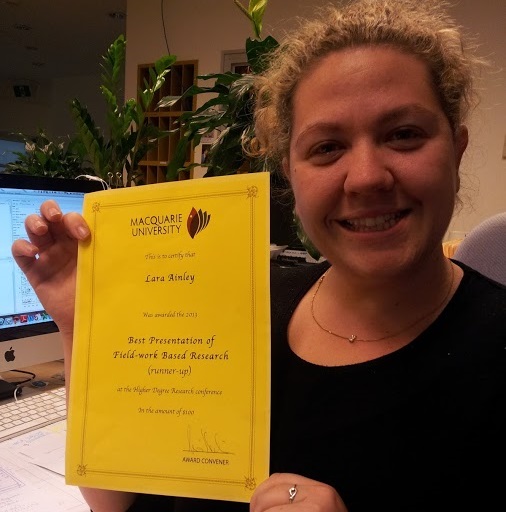 For more information on HDR studies in the department click here
---
Congratulations Cliff Garside for winning the Ernest Hodgkins Award at AMSA 2013
Cliff Garside recently attended the 2013 AMSA (Australian Marine Sciences Association) conference held at the Jupiter Hotel on the Gold Coast. Cliff presented his work titled: " Spatio-temporal patterns of variation in the invasion of southern NSW estuaries by the European shore crab, Carcinus maenas". From the many student presentations on estuaries at the conference Cliff was awarded the Ernest Hodgkin Estuary Research Award. The award is donated by The Committee of the Ernest Hodgkin Trust for Estuary Education and Research, and is awarded annually for the best student presentation on research that facilitates a greater understanding of estuarine processes and management. The prize is $300 per year, and a copy of the book by Dr Anne Brearley titled Ernest Hodgkin's SWANLAND Estuaries and Coastal Lagoons of South-western Australia.

In September 1998, shortly before his death at the age of ninety, Ernest Hodgkin set up a Trust Fund and made a substantial bequest from his estate to continue the work that was important to him – research and education to promote sound management of Western Australia's estuaries. The Ernest Hodgkin Trust for Estuary Education and Research was formed to continue Ernest Hodgkin's research and promotion of Western Australian estuaries leading to their better management. The Ernest Hodgkin Trust for Estuary Education and Research has been set up under the auspices of the National Trust Act. The National Trust's mission is to conserve and interpret Western Australia's heritage. A community based non-profit organisation, the National Trust plays a vital role in heritage education and advocacy both in the built and natural environments. By providing legal backing and professional support the National Trust ensures that all funds donated to the Swanland Project are committed to projects that meet Hodgkin's guidelines.
Three cheers for Cliff Hip Hip..... Hooray!!!!!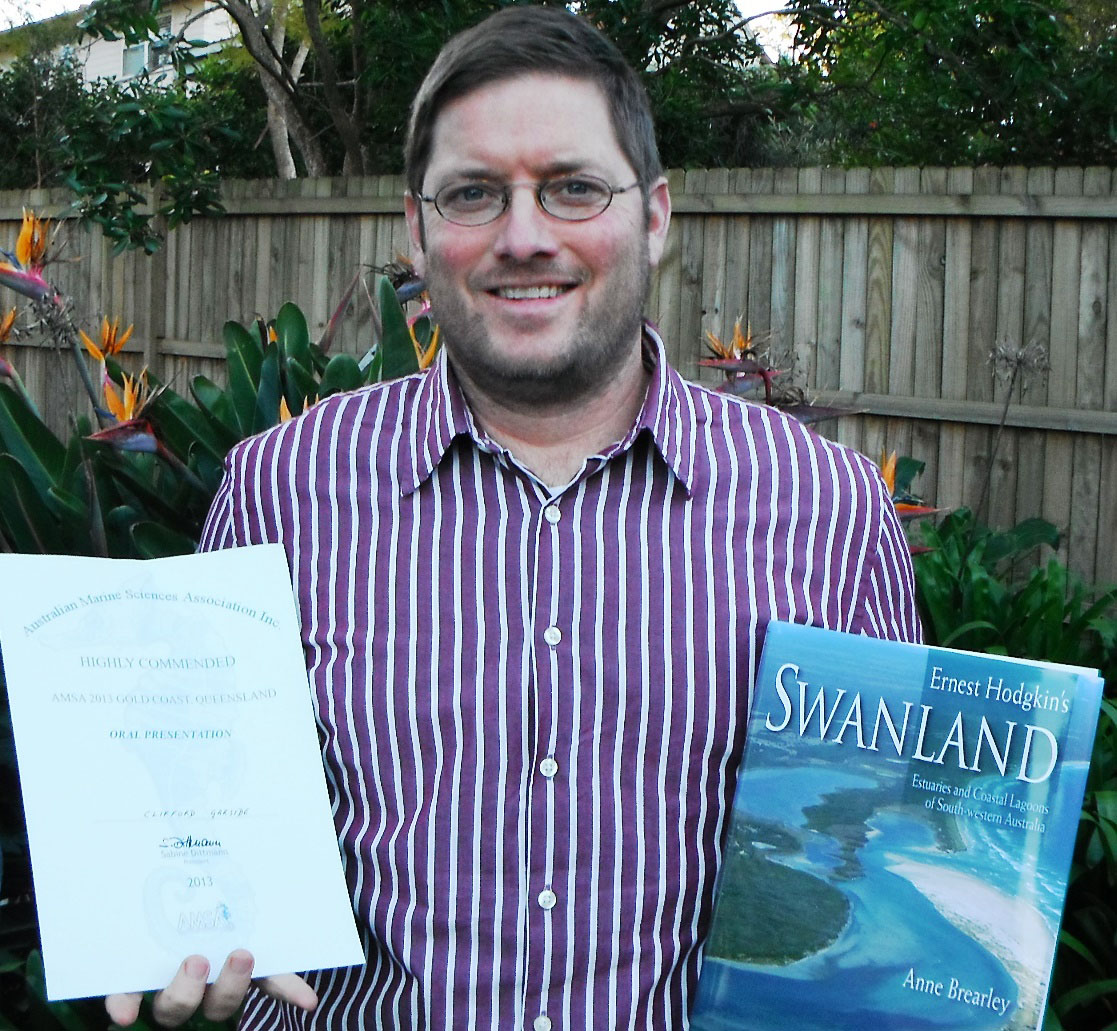 For more details on AMSA please click here
---
Dr Melanie Bishop 2013 finalist of the 3M Eureka Prize for Emerging Leader in Science
Yeah!!!!!!! Congratulations Melanie Bishop for making the final cut for the 2013 3M Eureka Prize for Emerging Leader in Science.
The 3M Eureka Prize for Emerging Leader in Science is awarded to a scientist who has used their leadership skills to create impact inside their institution, amongst their peers, within their discipline or in the wider community.

Dr Melanie Bishop's vision is to underpin coastal management with cutting-edge science. She leads a team uncovering how coastal ecosystems operate and respond to change. The team focuses on temperate coasts – one of the most productive and important ecosystems for nutrient cycling, and also one of the most impacted by humans.

Click here for more information
---
Congratulations Lara Ainley, winner of the Macquarie University PGRF scheme
The PGRF or Postgraduate Research Fund is a competitive funding scheme available to Macquarie University research candidates. The Fund is awarded to add value and enhance a candidates research theses by allowing the means for, in most cases, international conference travel and collaborations. The award granted was $5000.
Lara will use the money to attend the 42nd Annual Benthic Ecology Meeting in 2013 hosted by Georgia Southern University in Savannah, Georgia, and make a research tour visiting a number of marine laboratories and research stations to meet leading scientists in her fiield of study, gain first hand experience and give research seminars of her project.
Yay Lara we wish her the Best of Luck!!!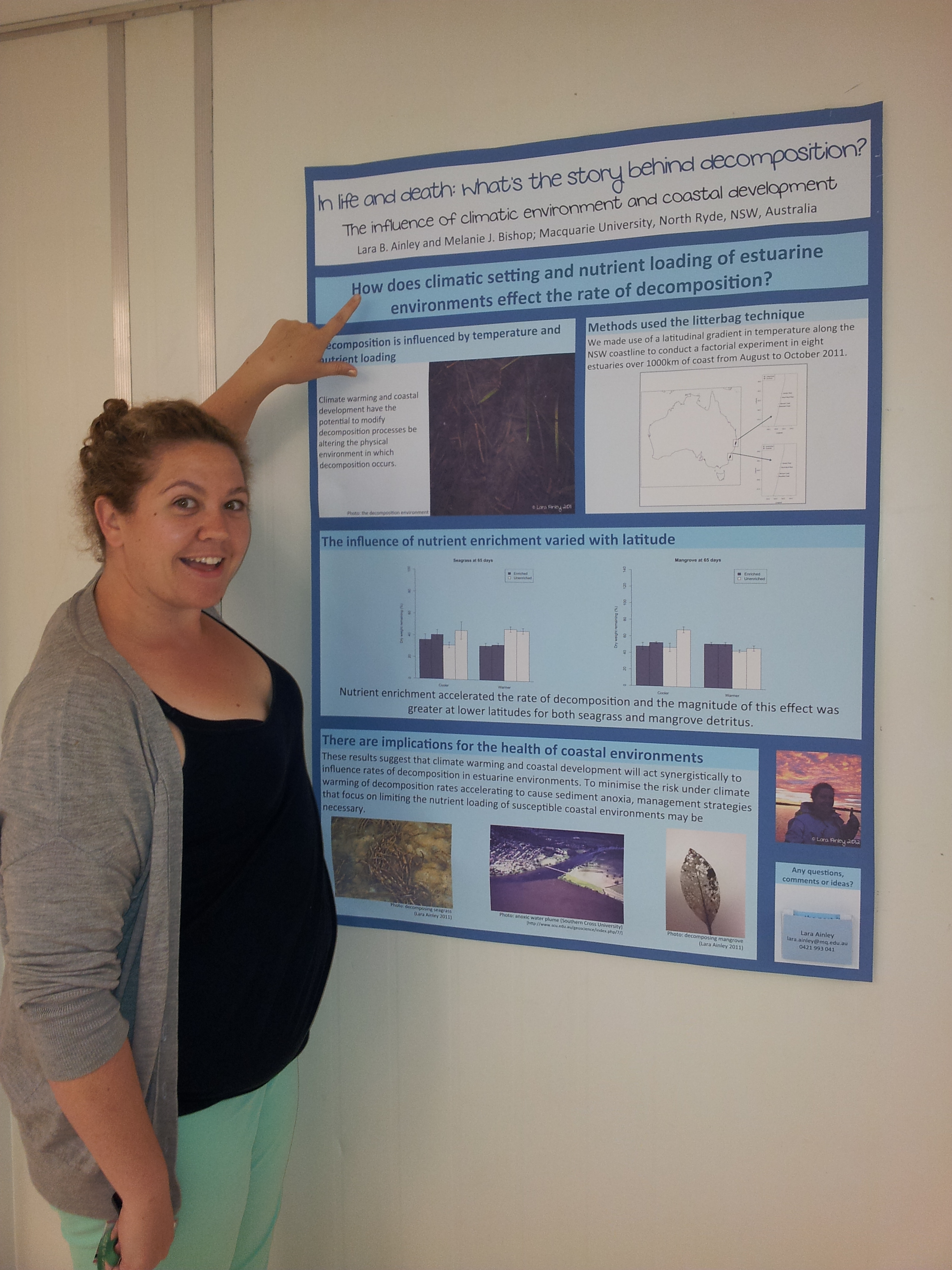 For more details on the Benthic Ecology Meeting 42nd Annual conference click here
For more details on the Postgraduate Research fund click here
---
Past News
2012
On the 8th December 2012 the Benthic Ecology Lab had thier Christmas Party at the Waverly Lawn Bowls Club. Unfortunately not all lab members could attend, but those who did had a ball, or should that be a bowl!!!
After a fabulous lunch at the Berry's Bay Bistro two teams took to the green to battle it out for supremacy. The pink team; Andrea, Mirella, Ramila and Joe, put up a mighty fight against the orange team; Mel, Alex , Lara and Dan. Although in the lead at halftime the Pink's were defeated by the superior Orange's as they bowled their way to VICTORY!!!!!!!

A Day on the Green

Straight in the ditch Ramila!

Our Fearless leader shows how its done

Back Left: Andrea, Lara, Dan, Joe
Front Left: Mel, Mirella, Ramila

The Pinks have this one!

You can bowl it in this way or this way!!!!
---
Dr Melanie Bishop 2012 winner of the Brian Robinson Fellowship
In 2009, the Banksia Environmental Foundation took over management of the Brian Robinson Fellowship. The Banksia Awards over the last 24 years have recognised many valuable Australian's for their tireless efforts in making a positive difference to our environment. This years awards presentation took place at the Melbourne Convention Centre, itself a Banksia award winner for the built environment.
The Fellowship, first awarded in 2005, is an annual grant created to encourage future environmental leaders. The objective is to nurture young people (under 35) with the potential to contribute to the future sustainability of Victoria, Australia or even globally.

This award is in recognition of the late Dr Brian Robinson, the former Chairman of EPA Victoria, whose vision, ideas and leadership were recognised as a force for global sustainability. All Australians benefited from the former EPA chairman's 30 year career, which shaped the direction of environment protection in Australia.
Temperate coastal ecosystems are among the most important on the planet, sustaining fisheries productivity, protecting shorelines against erosion and cycling nutrients. Urbanization and climate change are increasingly threatening these important functions, globally valued at over US$10 trillion per annum. This Fellowship will allow me to work alongside international leaders in coastal ecology and policy to address critical questions about when and where modification of coastal habitats leads to costly losses of key ecological functions. I will focus on two processes that are particularly pertinent to modification of Australian coastal habitats:
the nourishment of sandy beaches with foreign sediments to protect coastal property from sea level rise and storms; and
the translocation of non-native species.
I will use rigorous ecological experiments to assess how existing policy and management might be modified to simultaneously allow human use of our coasts and protection of their important ecological values.
---
Bigger and Better!!!!
The Benthic Ecology Lab has expanded! We now have an additional 12 square meters, which includes twice as much bench space and extra storage for the new student compliment.
In our quest to restrict the amount of carcinogenic fomalin used in the lab we have also increased our Freezer space 3 fold plus a massive 1,500 L, -300C ThermoScientific freezer.
| | | |
| --- | --- | --- |
| New Lab Space | -300C ThermoScientific freezer | More Bench Space |
In March this year to celebrate International Women's Day, Young Tall Poppy Science Researchers and other award-winning high profile female researchers gave a talk on science
The event was designed to:
provide an insight into exciting scientific research being undertaken by female researchers
demonstrate to teachers and secondary students how the basic scientific disciplines underpin different research areas, and
encourage discussion on study and careers in science for women
Watch Melanie give her talk on Women in Science.
---
Past News
2011
Dr. Melanie Bishop Young Tall Poppy Science Awards Winner
Joining eleven other young scientists, the awards recognise those who are doing outstanding work in their field and actively engage and educate the community about their work.
Over the past five years, Bishop's research has spanned many issues of significance to NSW, including how climate change and human activity are altering sediment-dwelling organisms and the productive fisheries they support.
Her work has made important contributions to areas including how population growth introduces pollutants into waterways, how the combination of warmer temperatures and fertilizer run-off from the land into estuaries leads to changes in aquatic vegetation.
Click Here to find out more
2010
Dr. Melanie Bishop a winner at NSW scientific awards
Melanie received her award in the Environment, Water and Climate Change Sciences category. The award, which includes a $5000 prize, was presented by NSW State Governor, Professor Marie Bashir AC. Bishop shared the award with Professor Andrew Pitman from the University of New South Wales.
Click Here to find out more
Exercitationem
Ut enim ad minima veniam, quis nostrum exercitationem ullam corporis suscipit laboriosam, nisi ut aliquid ex ea commodi consequatur.
Quis autem vel eum iure reprehenderit qui in ea voluptate velit esse quam nihil molestiae consequatur, vel illum qui dolorem eum fugiat quo voluptas nulla pariatu