Cognitive Neuroethology
Dr Andrew Barron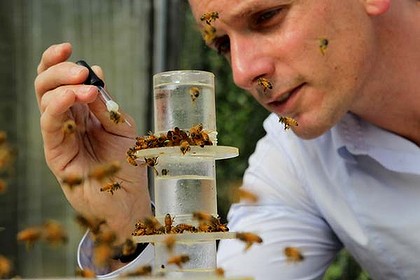 I am an Associate Professor in the Department of Biological Sciences at Macquarie University. With my team at Macquarie we are exploring the neurobiology of major behavioural systems such as memory, goal-directed behaviour and stress from a comparative and evolutionary perspective. In 2015 I was awarded an ARC Future Fellowship to develop a computational model of the honey bee brain.
My PhD (Department of Zoology, University of Cambridge 1999) considered the possibility of the retention of memory through metamorphosis in Drosophila. Prior to my move to Macquarie in 2007 I had the opportunity to work with and be mentored by Prof. Ben Oldroyd (University of Sydney), Prof. Gene Robinson (University of Illinois), Prof. Mandayam Srinivasan and Prof. Ryszard Maleszka (Australian National University).
Lab Website: http://bio.mq.edu.au/research/groups/cognitive-neuroethology/
For a list of my publications click here.
For my Google Scholar publication and citation summary click here.
Exercitationem
Ut enim ad minima veniam, quis nostrum exercitationem ullam corporis suscipit laboriosam, nisi ut aliquid ex ea commodi consequatur.
Quis autem vel eum iure reprehenderit qui in ea voluptate velit esse quam nihil molestiae consequatur, vel illum qui dolorem eum fugiat quo voluptas nulla pariatu